Places Records Created
Case Study: Using Census Records
Mapping helps you learn more about records that were created such as census records. Because census records were collected in a specific geographical pattern, we can compare the map and the pages in the census and learn new information.
Here is a case study explaining how a census record can be interpreted using Genealogy4D maps. My goal is to find out more about a man named Abraham Bush and find out if he might be my ancestor.
1. My ancestor is Fanny Bush who married Samuel Leffingwell. She was born in Stueben County, New York and came to Blackford County, Indiana in the late 1830s.
2. Living nearby are several likely siblings who also came from New York: George and Mary Ann (Redding) Bush, John and Mary (Miles) Bush, and Abram and Nancy (Dollar) Bush.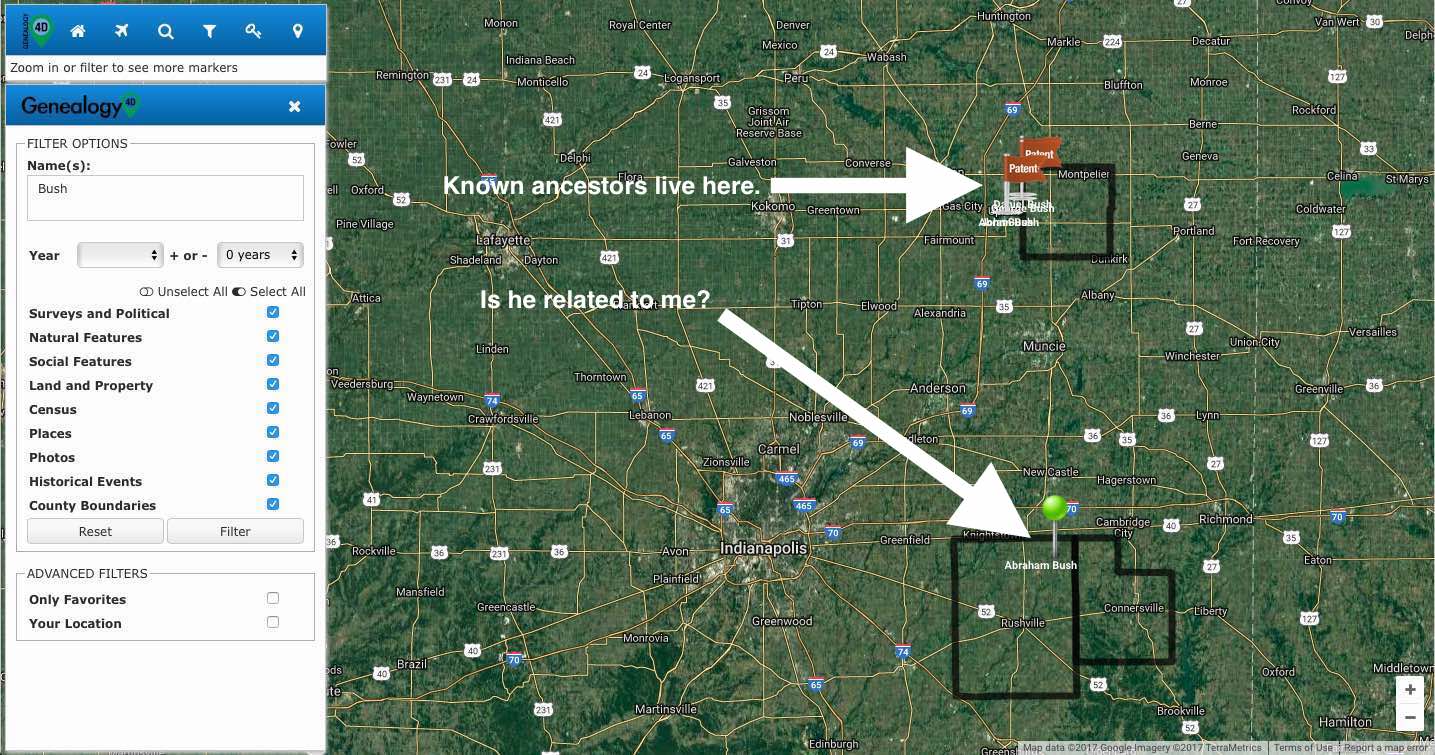 3. Who are their parents? Abraham and Mary Bush lived in Steuben County, New York but where did they go? There is a listing for Abraham Bush in Rush County, Indiana in the 1840 census. But Rush County is quite a distance from Blackford County. There are no other records of Abraham Bush in Rush County. Is this my ancestor?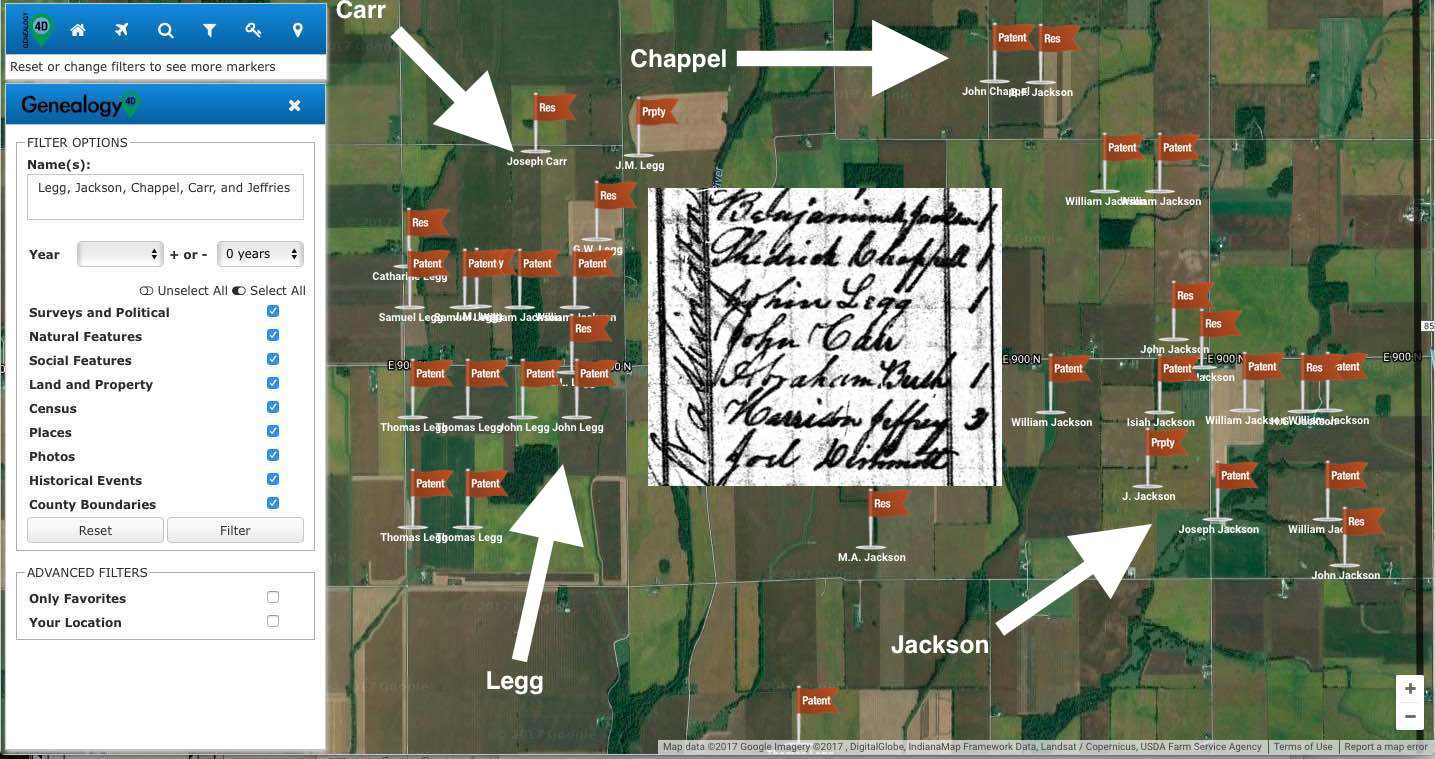 4. Starting with the census listing I look for other people listed near to Abraham Bush. I locate these surnames: Legg, Jackson, Chappel, Carr, and Jeffries. Then using Genealogy4D I can see several of these surnames in a small area in Washington Township. Using the filter I can isolate these names to make it easier to see. Abraham Bush lives somewhere in this area. Even though he didn't buy any property in Rush County, I can easily isolate the area where he lives.
5. I added my own marker to Genealogy4D to mark an approximate location of where Abraham Bush lived in 1840.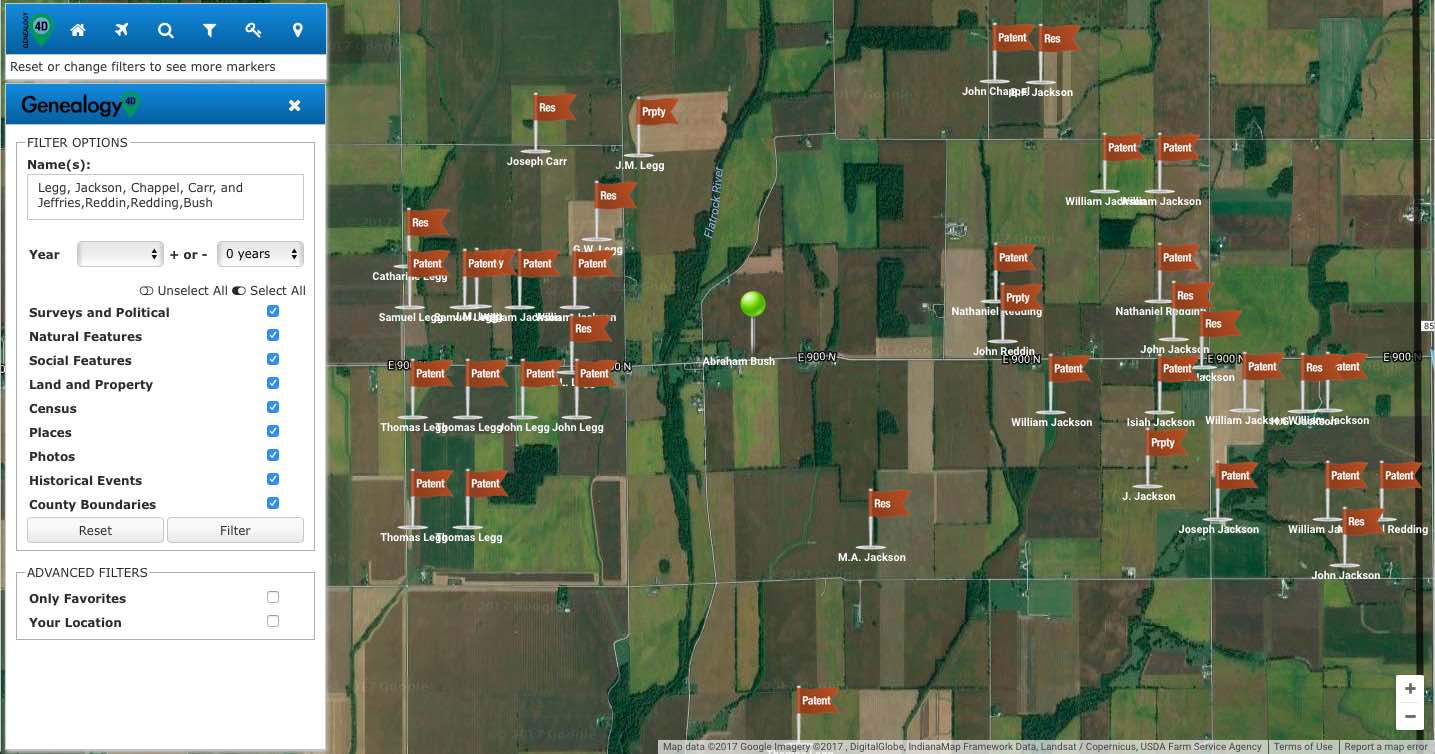 6. I have located a new marriage record for John Redding and Mary Ann Bush in Rush County. Now I notice the coincidence that George married Mary Ann Redding and John Redding married Mary Ann Bush. Could there be two pairs of Bush/Redding siblings who married each other?
Looking at the map again I expand the search to find any mentions of Reddin or Redding to see if there are any nearby matches. I am pleasantly surprised to find that John Reddin indeed lived very near to this location. Now I know that this is a really strong clue that I need to do more research on Abraham Bush and John Redding.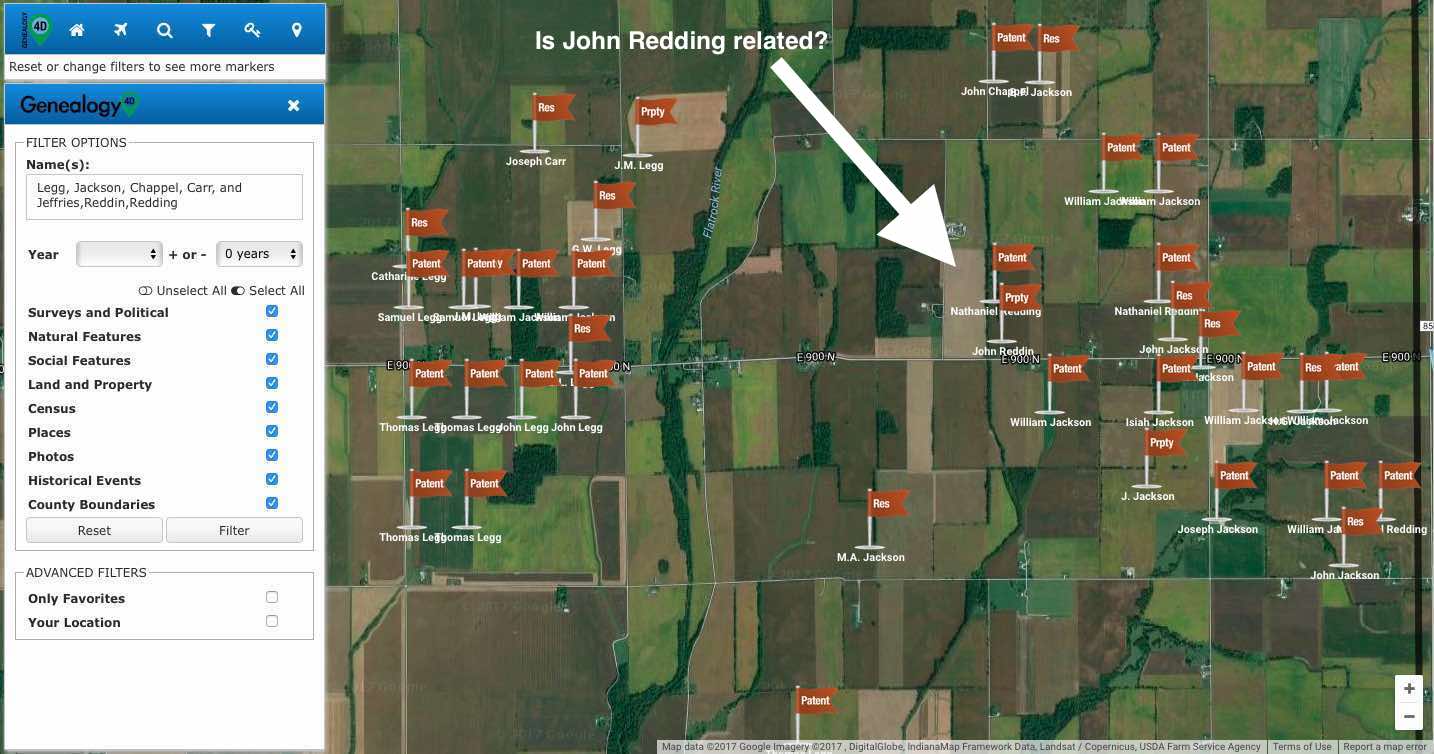 7. Additionally I notice that this region is very close to the county boundary. I have already found a census listing for Samuel (and Fanny Bush) Leffingwell in Fayette County. When I locate him in Fayette County using the the same technique I discover that it is only about 5 miles east of the location where Abraham Bush was listed. Now I have additional confirmation that my family lived temporarily in this area of Rush County.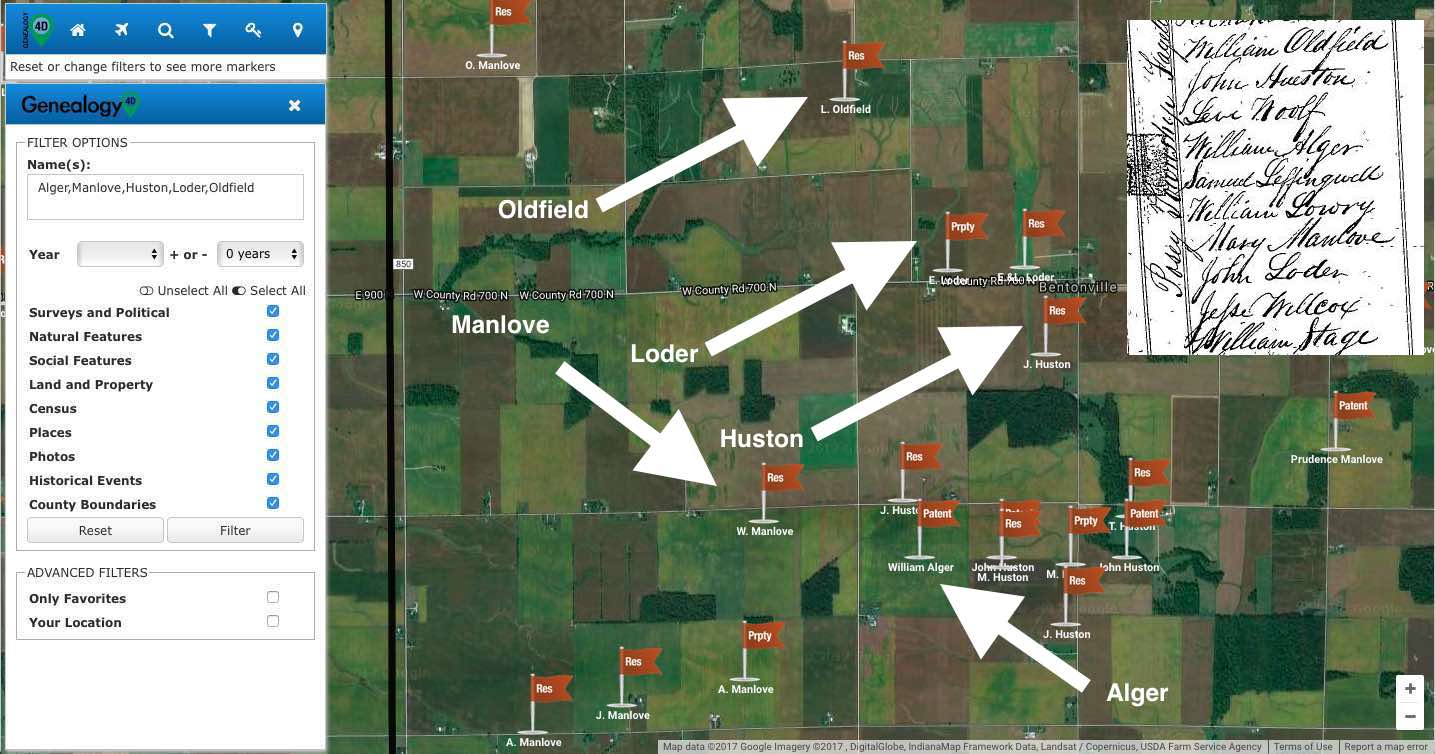 Now I have a general idea where my ancestor was living in 1840. I add my own marker to Genealogy4D to mark that location.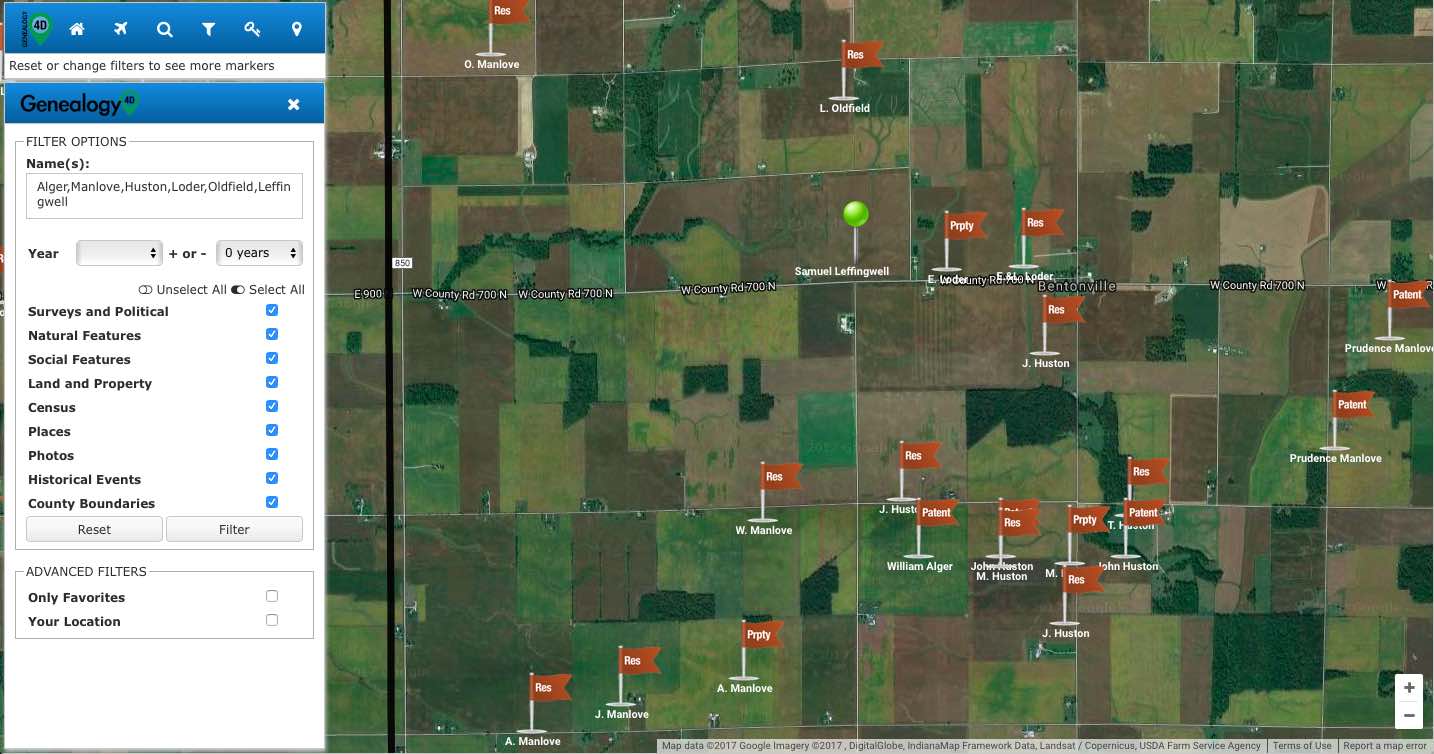 By itself this is not proof, but now I know that there is a strong possibility this Abraham Bush is my ancestor. With the benefit of this new information I can research all of these families further.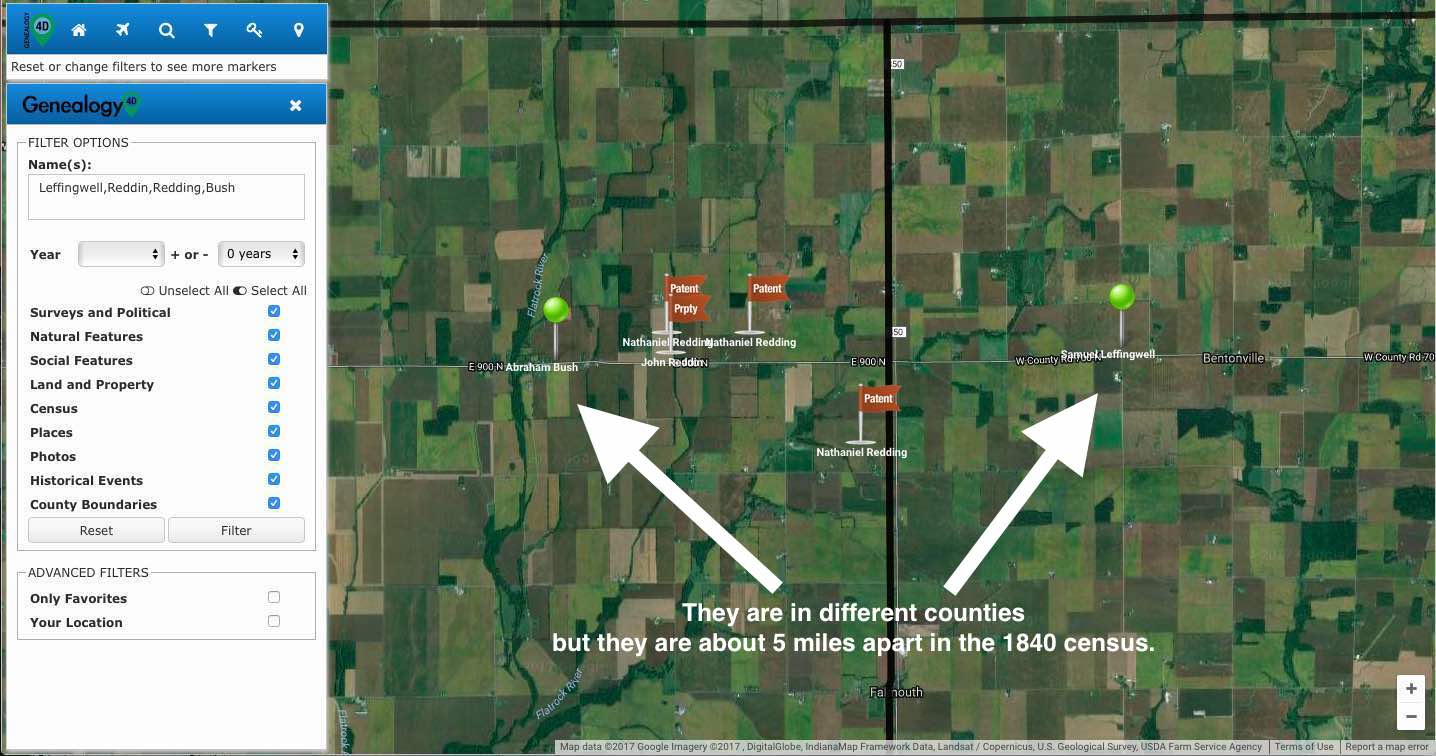 Our census project at Genealogy4D is doing this same analysis for you. We are analyzing the census using artificial intelligence and marking approximate locations based on the surnames in the list.